He destroyed her letters.
She saved his. 
After Sally Cary Fairfax died in Bath, England, in 1811, some of her possessions eventually came back to America. A bundle of papers included two letters from George Washington that he had written in September 1758, but it was not until 1871, a half-century after Sally's death, that the first of them became public. A transcription appeared in the New York Herald, but the original promptly disappeared when a private collector purchased it. For years, scholars doubted its authenticity until 1958 when it and the other letter turned up in Harvard's Houghton Library. Experts subjected them to a thorough physical examination and judged them to be genuine. George Washington had indeed written them. 
They were love letters.
The identity of the woman for whom the letters were meant required a troubling reassessment of George Washington. Sally Fairfax was the wife of Washington's close friend, his mentor from youth and longtime neighbor, George William Fairfax, the master of the grand estate called "Belvoir."
George William and Sally Cary were married in 1748 when he was not yet twenty, and she was eighteen. It was a natural match in many respects. The Carys were wealthy and refined, ensconced in a brick mansion at Ceelys on the James River three miles above Hampton. The father was a third generation Virginian, and the family had the proud bearing of money and status.  Am amused visitor to Ceelys once translated the Cary motto on their coat of arms Cari Deo Nihil Carent as, "The Carys, by God, want nothing."
In jest there was truth. Sarah Cary, always called Sally, grew up the eldest of four sisters. All were lovely, cultured, witty, and smart. Mary, the sister just behind Sally, is sometimes counted among the girls George Washington courted and lost, but evidence beyond a Cary family tradition for anything other than his admiration is thin. 
Sally, on the other hand, dazzled him from the start. As the mistress of Belvoir, she was an enchanting presence. She was self-assured and armed with a superior education that made her fluent in French, poised in the highest ranks of society, and conversant in everything from fine literature to popular fashion. Whether her marriage to George William Fairfax made her happy is hard to say, but they seemed a contented couple.
The Fairfax family was a venerable clan whose heraldic motto Fare Fac was the laudable exhortation "Say It and Do It." Sally admired these people. George Washington understandably admired her, and he gradually became infatuated. Sally was lovely, if not beautiful, and all men found her captivating, especially her arresting eyes that had "come hither" as their natural expression.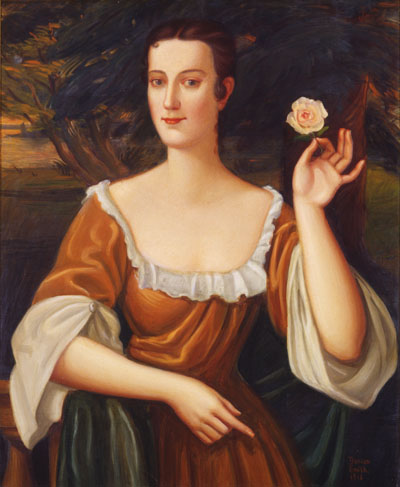 Though those eyes could stop a man in mid-sentence, she never tried to stop a man other than her husband in mid-sentence. She likely knew that Washington was smitten with her, but every male over twelve was smitten with her. As for her, she had to be impressed by George Washington, the gangly, uncertain boy who became polished, celebrated, and handsome. By the time he was a dashing militia colonel, she was playing the innocent coquette. Harmless flirtation was part of being the charming mistress of a grand estate. 
But the enchanting Mrs. Fairfax was neither flighty nor pampered, as she proved in 1756 when her young friend returned from patrolling the western frontier. Seriously ill and sure he was going to die, Washington shut himself away at Mount Vernon, but Sally came from Belvoir and nursed him back to health. It was a lengthy recovery, and she had no other distractions because George William was in England on business.
Some think that it was during this time that a friendship became a love affair. If it did, there was no hint of it at the time. There was no whispered gossip among the kind of people for whom whispered gossip is mother's milk. Nobody would have ever presumed anything about the relationship between Col. Washington and Mrs. Fairfax  — had Sally not saved the letters.
As a result, every generation since the 1871 appearance of those letters has had people intent on throwing George Washington and Sally Cary Fairfax into a bodice-ripping, bed-thrashing sexual affair. At first, sentimentalists colored the stories with a romantic glow made poignant by a tragically impossible future, but the conjectures and speculations too often have become cheap sensationalism. 
We will never know if George Washington and Sally Fairfax slipped into a full-fledged love affair in 1756.  What we do know is that in the late summer of 1758, as Washington was about to depart on a dangerous campaign on the western frontier, he wrote Sally the extraordinary letters. 
In the first, he was answering her letter of September 1, which Washington evidently destroyed. Sally seems to have been joshing in tone, especially by mentioning that he was impatient to marry Martha Custis. 
"'Tis true, I profess myself a votary of love," Washington responded. "I acknowledge that a lady is in the case, and further I confess that this lady is known to you. Yes, Madame, as well as she is to one who is too sensible of her charms to deny the Power whose influence he feels and must ever submit to. I feel the force of her amiable beauties in the recollection of a thousand tender passages that I could wish to obliterate, till I am bid to revive them."
Because of the phrase Washington used in his opening, scholars refer to it as "the votary of love" letter. Its awkward, convoluted declarations have encouraged the explanation that he was describing himself as a "votary of love" to Martha Custis. But Washington's reference to "a thousand tender passages" could not have been referring to the widow Custis, a woman of passing acquaintance until the previous spring. Indeed, the reference to Martha Custis makes the letter sad for several reasons. Their courtship had been quite quick, but they had come to some understanding that summer, an arrangement serious enough to merit a ring. 
So in addition to declaring his love to his friend's wife, Washington was disloyal to the woman he had pledged to marry. Sally's response, which is also lost, was as prompt as a courier could deliver it, and it was either cool in tone or laughed off Washington's September 12 letter as a joke. On September 25, he tried again: "Dear Madam: Do we still misunderstand the true meaning of each other's Letters?"
Sally possibly never answered this letter, and Washington never wrote her again in the same way and never, for all we know, did he repeat his feelings about her so frankly. 
But what are we to make of their correspondence? Considering what had passed for years between them, it was not an inconceivable exchange, but it was an incredibly awkward one. Even pleading Washington's youth as an excuse is difficult. At twenty-six, he was hardly callow. Moreover, his meaning was at best thinly veiled by the intricate phrasing of his September 12 declaration, and it had to be clear to Sally. He told her he was in love with her. And yet, he intended to marry Martha Custis. The British novelist Thomas Hardy contrived dozens of stories in which fate and fatalism keep forlorn lovers doomed to loveless lives with distracted spouses. 
This sort of story, however, does not fit the situation that played out in Virginia in 1758 between George Washington, Sally Fairfax, and Martha Custis. Instead, Washington was a man of remarkable character surrendering to a rare instance of unchecked emotion. Sally Fairfax was a sober young woman aware of her station and the obligations it imposed. And Martha Custis was a cheerful intended who knew something of the world, had suffered great sadness, and always greeted disappointments with resolve spiced by laughter. 
Because of this cast of characters, their story was neither a tragedy nor a fairy tale. Less than four months after writing the letters to Sally Fairfax, George Washington married Martha Custis.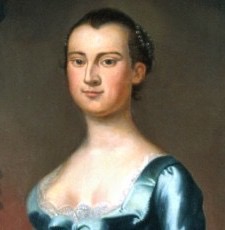 The newlyweds remained close friends with George William and Sally. They often dined together at Belvoir and Mount Vernon, and their association over the years was that of good neighbors held in mutual affection. If Martha suspected that anything unusual had ever passed between her husband and Sally, she never mentioned it.  
In 1773 Sally accompanied George William Fairfax on a visit to England, but the outbreak of the Revolution prevented their return. George William had entrusted Belvoir to Washington's care, and when its contents were auctioned, Washington purchased some of the mansion's furnishings to store at Mount Vernon in anticipation of when George William and Sally cam home. By then, though, they were forever at home in England.  During the Revolution, Washington successfully protected Belvoir from seizure, which was the fate of many other Loyalist estates, but the house burned in 1783. Washington visited the ruins in 1785 and admitted that "the happiest moments of my life had been spent there."  He could not bear to see it in collapse. 
When George William Fairfax died in 1787, Sally remained in England. Forty years after George Washington had told her that he loved her, she received a letter from him. He had finished his presidency, and his letter was tinged by relief over finally retiring from public life. It was also colored by nostalgia in recalling the scenes of their youth. He referred to a note he was enclosing from Martha, one which actually he had written for Martha to copy. In it, he had Martha invite Sally to come back to Virginia, rebuild Belvoir, and live out her life near Mount Vernon as they all spun out their final years. 
Sally would not do this. She soon heard of Washington's death, and shortly after that of Martha's. Sally settled in Bath. Gout began to swell and gnarl her fingers. The two letters from 1758 remained tucked away in her papers.
Sally Cary Fairfax's good sense, George Washington's good character, and Martha Custis's courage ensured all of their futures, the best for George Washington's country, and the best for him, as it happened. Sally was the girl he once adored. Martha was the woman he would come to love.  In due course, he would have the good sense to know the difference.
"It has been the maxim of my life," Sally Cary Fairfax once said about something else, "to go without what I wanted ever so much if I could not pay instantly." She was true to her word in applying the maxim broadly. She remained a sensible woman, but she kept her tender secret. It was gallant of Washington to destroy her letters to him in that fall of 1758, but it was sentimental of her to save his and carry them to England. 
Perhaps over the years she reread them now and then, but possibly not. After all, they were bittersweet reminders of having gone without when the cost of having was too high.